Education and Training
Level 5 Diploma in Education and Training
Previously DTLLS
137 Students enrolled
180+ Hours
£ 1450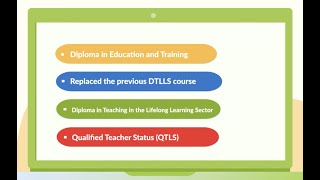 The Level 5 Diploma in Education and Training is an extremely popular course for teachers and trainers across all sectors. Previously, it was known as the DTLLS or Level 5 Diploma to Teach in the Lifelong Learning Sector. 
Our Level 5 Diploma in Education and Training is accredited by Pearson Edexcel.

Make sure you contact us to find out special discount packages we offer on this Level 5 DET along with the IQA course. Become a trainer and internal verifier together and expand your career prospects. Email info@eln.io or click on the webchat to get in touch straight away.
We also offer interest free instalments for individual customers.
Wondering how we will assess you during the COVID-19 lockdown? Read our ELN COVID-19 Assessment Strategy for more details. We will make sure we support you through to completion at this difficult time.
Who can take up this course?
It is suitable for beginner, intermediate and full-time teaching and training staff. After doing this course you can apply for QTLS (fully qualified status) with the Society for Education and Training. 
Eligibility requirements:
You will need access to 100 hours of teaching in paid or voluntary positions. You can gain valuable experience and complete your qualification as you earn.
We will observe and grade 8 hourly sessions via Skype or video recording. Alternatively, we can authorise a suitably qualified colleague to observe you on our behalf.
Why is the Level 5 Diploma in Education and Training so popular?
The Level 5 Diploma in Education and Training course leads to Fully Qualified Teacher Status or QTLS
This qualifies teachers or trainers to teach across a wide range of FE, HE institutions, Colleges, Training Providers etc in the UK and abroad.
Course Structure
There are 4 compulsory units in the Level 5 Diploma in Education and Training. Optional Units are chosen from a range of 23 Ofqual approved Optional Units. WE ARE THE ONLY TRAINING PROVIDER TO PROVIDE ALL 20+ OFQUAL APPROVED OPTIONAL UNITS.
Don't settle for other training providers who give you fixed, pre-selected units.
We support you along your whole learning journey. We will conduct a detailed personalised 1:1 initial assessment/interview with you before you begin your Level 5 Diploma in Education & Training. During this interview you will discuss and agree:
Optional units that are best suited to your skills, experience and career goals
Personal Development Plan
Skillscan to examine the work-based evidence already being produced during your regular work activities
Recognition of Prior Learning, Credit Transfers and/or Exemptions that can be claimed
E

asy

I

nstalment

O

ption
At ELN, we make quality education affordable with our easy instalment option. We provide instalments at no extra cost. No hidden charges. No set up fees.
Our mission is to make quality education accessible to everyone, everywhere and this includes making it affordable. Why not use the live chat below or call or email us on info@eln.io right away to find out more.
Stay connected via Facebook or Twitter and find out first about our updates, resources and special discounts.
The Level 5 Diploma in Education and Training is available for all candidates who fulfill the following criteria set by the Awarding Organisations:
Age range: 19+
Core & research skills: There are no formal entry requirements for this training course however candidate must have reading and writing skills in order to complete the course.
Access to Internet using a laptop / pc / tablet using up to date Windows, Android or Apple operating systems and browsers.
Access to 100 hours of teaching of which 8 hours must be observed and assessed (we can arrange an assessor visit, assess via Skype or video recording, or a suitably qualified person in your company).
Wherever possible we will work with you to fulfill the assessment criteria using your existing work evidence, reducing repetition of work, resulting in more efficient and holistic assessments.
Unit 1: Teaching, learning and assessment in Education & Training 
1 x Research Paper OR Presentation based on the research, tutor feedback, self-evaluation
4 x essay style assignments
Work-based evidence:
2 x Diagnostic assessments and related student records,

Communication records with other professionals

Scheme of Work

3 x lesson plans and example resources

3 x observation feedback reports using Ofsted Current Inspection Framework (CIF) Standards

3 x self-evaluations
Unit 2: Theories, principles and models in Education & Training
1 x Research Paper OR Presentation based on the research
3 x essay style assignment 
Work-based evidence:
CPD log of at least 20 hours

Personal Learning Log/Journal - self-evaluations

1 x case study of 1:1 communication with an individual student

1 x case study of group communication

Samples of learner assessments
Unit 3: Developing teaching, learning and assessment in Education & Training
 1 x essay style assignment
Work-based evidence:
Adapted Scheme of Work from Unit 1.

Sample assessments

Assessed observation reports

Learner records

Self-evaluation
Unit 4: Wider professional practice in Education & Training
1 x Research Paper OR Peer discussion and related notes
1 x essay style assignment
Work-based evidence:
Self-evaluations

1 x case study

Session & course valuation

IV and Internal Quality Assurance related records
Optional Units:
Assessment for your Optional Units will depend on your units chosen, your previous qualifications and work experience.
---
Who will you learn with?
Sana Farooq is Director of ELN The E-Learning Network. She graduated as valedictorian in her Bachelors and Masters in English Literature with Psychology and International Relations minors. She is Level 5 trainer as well as a fully qualified Assessor and Lead IQA. She is a chartered auditor with the IRCA. Sana enjoys travelling the world and connecting with people from different regions. This passion has led her to become a TEDx speaker, mentor for the Cherie Blair Programme for Women and Global Ambassador for the prestigious Blackbox Connect accelerator based in Silicon Valley.
Mark is ELN's Training Manager as well as being one of our most highly rated tutors. He supports students on our DET, IQA, EQA and some Assessor courses. He has amassed over 23 years of training experience, working with all organisational levels, creating, promoting and delivering training solutions in both the public and private sectors, working throughout the UK, Middle East and Africa. He holds numerous qualifications in learning and development including the Diploma in Education and Training, Certificate in Assessing Vocational Achievement, Certificate in Leading Internal Quality Assurance and the Award in External Quality Assurance.